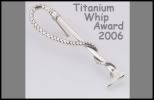 Judges wanted.

I know nominations closed in January, but The Titanium Whip Awards have been trying to get all their nominated fics marked, unfortunately due to real life etc, only one or two of our judges have been consistently active. So, in an attempt to get results as quick as possible, we're now looking to recruit more.

Judges will remain anonymous except to the Award Administrator. If you think you have the qualities we're looking for as laid out below, please email us and tell us why you think you qualify. We have criteria set out to aid the judges so that all our judges should be marking reasonably equally. There are a lot of fics that need marking, so if you have the time to spare to help then please email us.



(

Qualities we're looking for in our judges:Collapse

)
Comments: Add Your Own.